Discover how master Renaissance artists prepared their pigments from the earth and plants. These pigments when mixed with the yolk of egg have resulted in some of the most beautiful and enduring paintings in the history of western art.
Learn the traditional technique of egg tempera painting and gilding. Students will be carefully guided through the different stages of the work. An outline drawing is first prepared and transferred onto a white gesso panel. Red bole is then applied onto the panel, upon which the gold leaf is laid. After gilding is completed students begin to develop the painting in egg tempera, beginning with a tonal under painting (verdaccio), over which are developed the colours in transparent glazes in many layers of pure colour . When the painting is complete students will learn how to decorate areas of the painting with fine patterns of gold using a different technique known as mordant gilding, by this method intricate areas of detail can be illuminated with gold.
Participants are welcome from all levels. Previous experience in egg tempera or gilding is not necessary. Beginners are very welcome.
The workshop will be held in the Tower studio within the ruins of Cowdray Castle, Midhurst, West Sussex.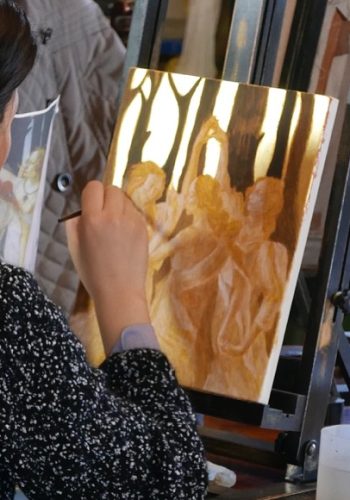 Duration: 5 day workshop
Cost: £500.00
Materials:  Gilding materials will be provided. Students will need to supply their own brushes and gesso panel. Gesso panels can be purchased through myself or at Cornelissens in London.
cranswickart@gmail.com

07801 430 194
Renaissance Art Studio
The Tower Room
Cowdray Heritage Site
River Ground Stables
Midhurst
West Sussex
GU29 9AL