THE FLEMISH TECHNIQUE – late 15th century practice of painting in egg tempera and oil
During this workshop students will be taught the traditional painting techniques used by Flemish and Italian masters of the late 15th and early16th centuries. Artists of this period combined the two mediums of egg tempera and oil, integrating the virtues of both mediums into their paintings.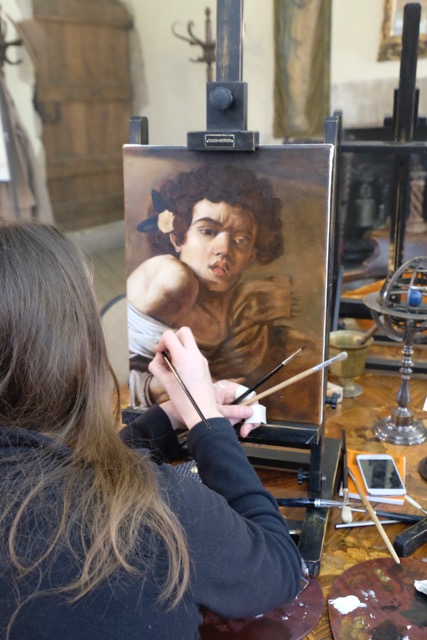 Students will be guided through the various stages of the work as practised by artists of this period – from transferring the design onto a traditional gesso panel, creating a tonal composition (chiaroscuro) in egg tempera, followed by the application of colour in oil paint using traditional glazing mediums.
The workshop will include instructions in the traditional method of egg tempera painting, the use of different plant oils, their properties, and how these are mixed and ground with pigment to make oil paint.
This workshop is applicable for students of all levels of experience, from beginners to professional artists.
The workshop will be held in the Tower studio within the ruins of Cowdray Castle, Midhurst, West Sussex.
The cost for the 5 day workshop is £500.00 and includes most materials. Students should provide their own brushes and gesso panel. Gesso panels can be purchased through myself or at Cornelissens in London). Please let me know if you would like to order a gesso panel.